My first blog post!
Hello and welcome to my first blog.  
It's a long weekend here in WA and I was looking forward to getting lots of things done in the garden and taking a day trip out to one of the fabulous places in and around Kununurra, but what happens?  I get a cold!  So, I'm doing the 'listening to my body' thing, and taking it easy, so that's partly why I've been spurred on to start my blog today. I hope it's interesting!  I'm a lot better with pictures than with words but here goes..
The idea is also to promote Kununurra and the Kimberley, while talking about what I'm up to with my paintings and upcoming workshops.
Happy long weekend!
Regards,
Jeanne
New painting-well, sort of..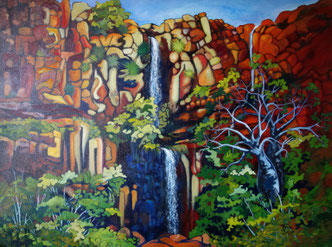 This is actually a reworked painting I've recently completed. The painting underneath was a realist painting of a waterfall flowing into the upper Ord river, and it just wasn't getting much interest, so I decided to paint over it, add the boab trees and also give it a bit of an abstract feel.  Not the best photo, can't seem to get rid of the shine on the left!
For the 'before and after' photos, scroll down to the bottom of this page for my Facebook link.
My inspiration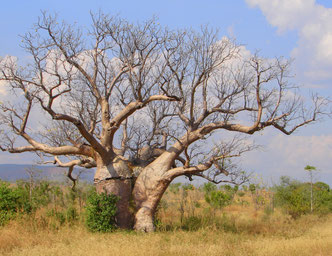 I never get tired of painting these magnificent trees.  I've painted this tree before, and the painting is in the reception area of the Lakeside Resort in Kununurra.  Great place to stay if you are visiting Kununurra! This is the photo by the way, not the painting!
Work in Progress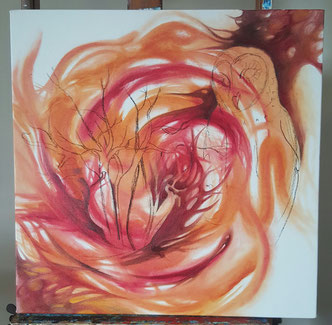 This is an oil painting I'm working on at the moment. I'm using transparent colours to achieve a watercolour-like effect on canvas. I usually make it up as I go along, so might add a bit more to it once I've painted in the owl and the trees.