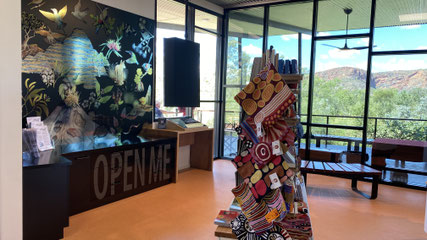 On Thursday the 27th of April, the new Purnululu Visitor Centre had its grand opening, and taking centre stage is my painting, commissioned by the Dept of Biodiversity, Conservation and Attractions WA. 
The brief was to create an artwork to showcase just a few of the diverse plant and animal species found in Purnululu National Park, (PNP) some of which aren't found anywhere else in the world. They were to be painted onto 3 panels to facilitate easy transport.
The project took me about 3 months, more than a month thereof was spent doing research, including reading the 200-plus page biological survey of PNP.  I loved every bit of it!  From there, Tamara from the Dept of Biodiversity, Conservation and Attractions edited the painting in digital format, and it was printed onto mirrored ACM polycarbonate panels with a matt black overlay.  
Getting the panels to the Visitor Centre was no easy feat,  as anyone who has driven the 53km dirt track will know.  The original plan was to transport it by road until the beginning of the dirt track, then fly it in the rest of the way by helicopter, but unfortunately their helicopter was called in to assist with the flood work, and they had no option but to take it on their truck.  There had been massive rains and the track was in a terrible state, but Tony, the absolute legend, carefully drove the panels at 10km p/h in sweltering heat with no aircon to the Visitors Centre, a 4 hour trip.   They arrived perfectly intact, wrapped up in blankets and treated like royalty!  If something had happened to them, there are no more of these panels in the whole of Australia, so they wouldn't have been able to re-print them.  Oh, the stress! 
I was absolutely gutted as I was unable to attend the opening due to having a bug, but I'm going to spend a couple of days there in a few weeks to see the final product in the flesh and do some painting on site.
My prints and cards featuring the Bungle Bungles will be available to purchase at the Purnululu Visitor Centre.